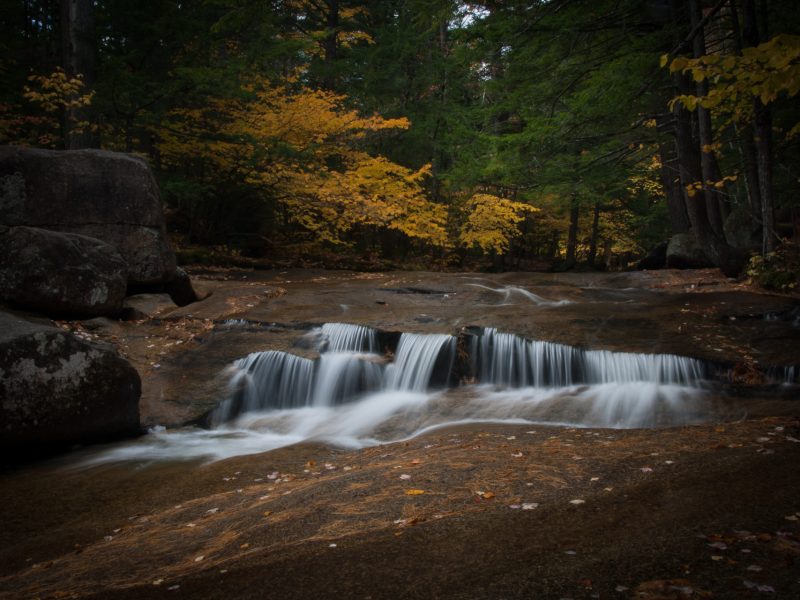 Free Fallin'
I remember my first trek into Walton Glen gorge and falls along the Bay of Fundy coast, partway between Alma and St. Martins. In particular, I recall the magical sense of wonder and adventure as I navigated inland from the cobble and sand beach where we had camped for the night. Entering the impressive Walton Glen gorge with its 30 to 60m high walls, all sound save the brook's gentle gurgle fell away. For a moment, I stood still in this cleft of rock, breathing reverence.
Then, the call of a raven overhead broke the spell. Sneakers soaked, I continued wading the ankle-deep water upstream toward the 44m  falls – the highest in New Brunswick.
Although the flow of water over the falls was minimal that hot August day, my own personal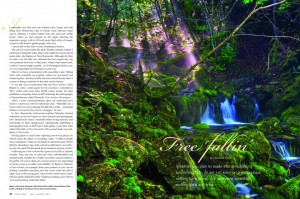 discovery of this meeting place of rock and water evoked a curious tingle of pride….as if it belonged solely to me…or I was responsible in some way for its beauty.
Most of us have a fascination with naturally cascading water. Hiking trails with waterfalls are certainly the most popular within our national and provincial parks – but beyond the obvious natural beauty is interwoven a sense of connection to land and its history.
It was this sort of fascination that led Nova Scotia's Allan Billard to write a field guide for his province's waterfalls in 1997, which sold more than 12,000 copies locally. He then published a keepsake book in 2007 featuring the photography of Donna Barnett, called Waterfalls: Nova Scotia's Masterpieces.
Allan, a keen environmentalist, grew up exploring Nova Scotia's waterways with his fisherman dad. "Waterfalls are a bonus when you are tramping through the woods… a pleasant tableau or reward at the end of a struggle," he says.
In New Brunswick, backwoods explorer Nicholas Guitard embarked on his own quest: to visit, research and photograph New Brunswick's many waterfalls before living memory and knowledge of them disappeared, subsequently publishing a photography book in 2009 and a field guide a year later, both called Waterfalls of New Brunswick (the second book was subtitled A Field Guide).
Having spent so much time exploring out-of-way places, he reflects upon the allure of cascading water: "I believe people feel re-energized—folks are not linked to nature because of their lifestyle. Spending a day in the natural world fosters our creativity and our spirit. We feel good about ourselves and our world."
Following are a few noteworthy spots to see falls in Atlantic Canada. They are easy to find and with well-identified and marked trails, suitable for a family excursion, and accessible to the public. Of course, there are so many more to see, depending on factors such as weather and mobility. At Baxter's Harbour, in Nova Scotia, for example, from your parked car you can see striking waterfalls cascading into the ocean when the tide is high. And, as the saying goes, size isn't the whole story; waterfalls are partly defined by their wilderness setting, each with its own mesmerizing, elemental allure.
New Brunswick
Hays Falls
Description: Hays Falls is located on the Maliseet Trail, which is part of a route historically used by Maliseet, Mi'kmaq, Passamaquoddy and Penobscot First Nations to navigate between the Saint John and Penobscot Rivers. At 20m (66ft) in height, it is one of New Brunswick's highest waterfalls.
Directions: From Fredericton, drive north on Route 2. Before Woodstock, take Exit 212 to Meductic, then turn onto Route 165. Drive north 7 km (4.4 mi). Watch for the sign, 'Maliseet Trail'. Off-road parking available.
Hiking Time: 30 minutes ; GPS: N 46° 01' 36" / W 067° 33' 16"
Maggie's Falls
Formally known as Robinson Falls, the locals prefer to call them Maggie's for the woman who once lived nearby and charged children a nickel for a swim. Fed by the Odellach River, these tiered falls step down over a series of flat edges. A number of trails lead to several vantage points.
Directions: From Perth-Andover, take Route 109 north-east toward Plaster Rock. Just before Arthurette, watch for the Birch Ridge Rd. Turn right for about 6 km (3.7 mi) until reaching a gate on the left, bearing a sign for the falls.
Hiking Time: 20 min.; GPS:  N 46° 44' 20" / W 067° 27' 39"
Little Sheephouse Falls
Description:  A pleasant and easy hike along the Miramichi region's Little Sheephouse Nature Trail affords an opportunity to view three waterfalls, the highest being Little Sheephouse Falls at 12m (39 ft). Found in a mixed forest of mature hardwood and softwood trees – a rarity in this region known both for its lumbering and salmon rivers – this tranquil 1 km long trail is well-maintained, has picnic area and viewing platforms, and provides a cool diversion on a hot day.
Directions: Follow Route 430 (Heath Steel Mine Road) northwest out of Miramichi City toward Wayerton. Cross the river and continue driving until reaching the Fraser-Burchill Road. Turn left and follow this road for 10 km (6 mi) until Sheephouse Road. Follow the Sheephouse Road for 5 km (3 mi) until reaching a road on the left. Take this road and at 2 km (1.2 mi), watch for the nature trail signage.
Hiking time: 5-10 minutes; GPS:  N 47° 05' 41.83" / W 066° 00' 05.52"
Nova Scotia
Wentworth Valley Falls
Description: Wentworth Valley Falls is one of Nova Scotia's most beautiful "bridal veil" falls. As with many other falls, it is most striking in the spring or after a few days of rain, so plan your visit accordingly. The watercourse is shallow and offers a perfect summertime picnic site and a pleasant wade for smaller children.
Directions:  Take Route 4 north from Truro. Two kilometres (1.2 mi) past a gravel operation at Folly Lake, watch for a dirt track on the left, marked by a steel gatepost, a few metres south of the Wentworth Motel. The base of the falls is about 200m (650 ft) down this road.
Hiking time:  10 minutes; GPS:  N 45° 35' 18" / W 063° 33' 38" (road entrance)
Wards Falls
Description: Located on the Diligent River, Wards Falls is at the end of a 3km (1.8 mi) meandering shaded pathway that follows the river, including several bridge crossings. The falls are not notably high, but the intriguing geology invites exploration. A cave has been hollowed out behind the falls and adventurous climbers will find a slot canyon above the falls.
Direction: Travel west from Parrsboro on Route 209 toward Wharton. At 8km (5 mi), watch for right hand turn, marked with a sign for the falls. The 3.5 km (2 mi) trail begins at a parking area. These falls are located on private land owned by a local building company, which maintains the trail.
Hiking Time: 45 minutes one way; GPS:  N 45° 25' 06" / W 064° 25' 39" (parking area)
Delaps Cove Falls
Description: The well maintained Bohaker Trail to the Delaps Cove waterfall offers rest areas with views of the Bay of Fundy. This historic area was once home to free Black settlers, dating from 1838. The 15 m (50 ft) high waterfall cascades over a series of basalt ledges to the bay. For those who venture out in early evening, a small viewing platform at the top of the falls may afford a spectacular view of Bay of Fundy sunset.
Directions: From Annapolis Royal, follow the signs north, then west toward the Port Royal National Historic Site. Before the Habitation site, turn right on the Hollow Mountain Road towards Delaps Cove, then left on the Shore Road. Continue through Delaps Cove and watch for a dirt road before a campground. Follow this for 2 km (1.2 mi) until reaching the parking area and trail head. The 1.9km (1.4 mi) trail is a circular route.
Hiking Time:  30 minutes; GPS: N 44° 45' 39" / W 065° 38' 57" (parking area)
Newfoundland-Labrador
Steady Brook Falls
Description: Steady Brook falls is a thundering 77m (250 ft) wall of water shooting from a granite rock face. Follow the 1 km (.5 mi) hike to several viewing platforms and the top of the falls, where the brook pools into several popular swimming areas. The adrenalin-blasting explorer may consider taking Canada's highest zip-line (http://www.marbleziptours.com/) across the falls, 88m (285 ft) above the floor of the gorge.
Directions: Approximately 10 km north of Corner Brook, NL on Route 1, take the exit to Marble Mountain. Look for the trail behind the George Mountain Village at the base of Marble Mountain.
Hiking Time: 30 minutes; GPS: N 48° 57' 01" / W 057° 49' 28" (George's Mountain Village)
Alexander Murray Hiking Trail & Rattling Brook Falls
Description:  Three waterfalls are located on the 8 km (5 mi) long Alexander Murray Hiking Trail, a looped route boasting 2200 steps (up and down), 1100 feet in elevation, spectacular views of Green Bay and the Gaff Topsails, the waterfalls and a 600 ft gorge. The Rattling Brook Falls are a short distance north from the Alexander Murray trail in the village of Rattling Brook. There, a 1km (.6 mi) trail with walkways and steps takes you to the base of 250m (820 ft) waterfall and swimming area.
Directions: From the Trans-Canada highway, take Route 390 towards Springdale, then Route 391 to Kings Point. Just after entering Kings Point, watch for the Visitor Information Centre. The Alexander Murray Hiking trailhead is behind the centre. The village of Rattling Brook is about 3.5 km (2.1 mi) further.
Hiking:  Alexander Murray Trail – 3.5 hours; Rattling Brook – 10 min.
GPS: N 49° 35' 04" / W 056° 10' 49" (Alexander Murray); N 49° 37' 15" / W 056° 10' 33" (Rattling Brook)
Overfall Brook, Forteau, Labrador
Description: The Overfall Brook Trail is part of the Pioneer Footpath trail network. This section follows the shoreline of Forteau Bay to an impressive bridal veil fall cascading over 30m (100 ft) to the ocean. Choose either a lowland route along the beach to the base of the falls or an upper route through the barrens, affording a view of Forteau Bay with the Point Amour lighthouse in the distance.
Directions: From the St. Barbe, NL/Blanc Sablon, QC ferry, turn right on Quebec Route 138 (which becomes Route 510 after crossing the QC/Lab border). Upon entering Forteau, turn right at the main intersection onto Harbour Drive and proceed to the end of the road. A signed trailhead identifies the Pioneer Footpath and a notation for Overfall Brook.
Hiking time: 45 min one way; GPS: N 51° 27' 43" / W 056° 56' 58"
Saltscapes Magazine, July/August 2012.
copyright 2012 ©Deborah Carr.