The lovely folks at Winegarden Estate, Ltd. wanted to celebrate the 25th anniversary of their immigration to Canada and the industry they built, literally, from the ground upand asked me to write their business history for them. I interviewed family members, researched the company, wrote the content and worked with a graphic designer to create a full colour pictorial tribute that the family could be proud to distribute.
Here is a brief excerpt:
In Vino Veritas: How an Old German Tradition becomes New Brunswick's Windfall
In 1989, when Werner Rosswog, a new German immigrant with minimal English skills, blithely wrote a letter petitioning New Brunswick Premier Frank McKenna for a license to operate a cottage winery business, he was breaking new ground. No one had yet imagined a day when New Brunswick's rich and varied supply of fruit could be used for the production of wine and spirits. That naïve – and rather bold – letter ultimately led to the birth of a new industry and Atlantic Canada's first private winery/distillery, Winegarden Estate, Ltd.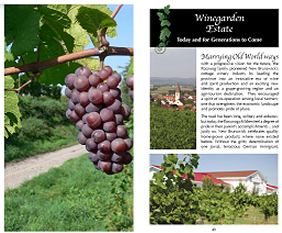 Today, the Province of New Brunswick celebrates a proud new identity as a grape-growing region and an agri-tourism destination, while local fruit farmers work together co-operatively to create options for diversified business and economic growth. But pioneering an industry is no easy chore.
On its own, this is an account of perseverance and struggle.  But the real story starts many years earlier, in a country well known for its culture of spirit and wine production. And at its very roots is a deep connection to land that transcends time and generations…and now continents and countries.
Pride of Place. This is where the story truly begins…and where it continues.