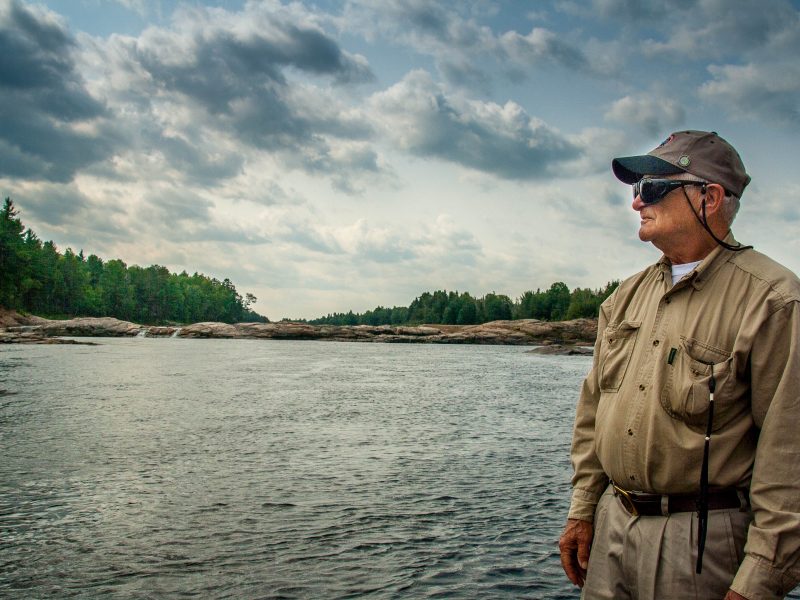 Conserving Endangered Wild Salmon
(Saltscapes Magazine, Jul/Aug 2016; Atlantic Journalism Awards Silver finalist for Enterprise Reporting)
Volunteer efforts undermined by government apathy (Part 2 of 2)
The 129-kilometre-long Nepisiguit River flows north and east from Nepisiguit Lakes to New Brunswick's Bay of Chaleur. Today, it's a healthy river with more than 90 salmon pools, abundant gravel for spawning, and rapids that oxygenize the water.
It wasn't always like this.
Back in the 70s, when the Nepisiguit was dead due to acid runoff and toxic waste escaping a nearby mining operation, Bob Baker of Bathurst walked every foot of the shoreline to the impressive Nepisiguit Falls and power dam marking the terminus of the salmon's 28-kilometre journey upriver from the bay. He noted the pools and gravel beds that salmon might frequent.
Years later, after volunteers had cleaned up the river and begun a restocking program, he walked it again, finding salmon right where he thought they should be. He has charted every twist and turn in his mind, and in his heart.
"But no one wants to do that anymore," he says. "They want to be told everything. I tell 'em you gotta earn your own knowing."
As co-founder and long-time president of the Nepisiguit Salmon Association (NSA), 77-year-old Baker is the quintessential volunteer. Since 1981, when the NSA morphed from advocacy to an active enhancement program, he has logged countless hours—all for the love of the fish.
From the tan cap, shirt and pants right down to the leaping salmon belt buckle, he looks like a river warden and has certainly done his share of policing against poachers, polluters and rule-breakers. The bumpers of his black Ford pickup are festooned with fish-shaped decals, its interior coated with dust and its sides scraped from trips along narrow woods roads.
The NSA collaborates with Pabineau First Nation, which operates a fish counting fence 12 kilometres upstream from the bay. The sturdy net, angled across the river, funnels salmon traveling upstream into counting boxes.
Every morning, from July to October, Chester Sewell rows out to those boxes, counts the salmon inside, then releases them to continue their journey.
"Salmon are not easy to handle because they are fighting all the time, you know; they really snap," he says. "Sometimes there are over 100 fish inside—just like sardines—and you're standing in there, trying to work around that. It's something to see, actually."
In September, Sewell and his crew begin selecting the largest as broodstock destined for the Charlo hatchery where eggs are collected and fertilized, and the adults then returned to the river. Once hatched, the tiny alevins are placed in protective incubation boxes above and below Nepisiguit Falls. After reaching the fry stage, they're released into the river. "If you put them in as soon as they can feed themselves," says Baker, "they are no different than wild salmon."
Since 1981, the NSA has stocked 11.75 million juvenile salmon in this river, six million of them through the incubation boxes. With the data obtained from electro-seining in spring and from the counting fences and angling surveys, NSA determined their stocking program has contributed to the 4,000 to 6,000 adult spawners returning annually from the ocean.
This simple system of counting, monitoring and restocking works just fine, Baker says, but government impeded their efforts by closing hatcheries. He cannot abide by the lack of common sense.
"I'd rather propagate salmon than people," he says.