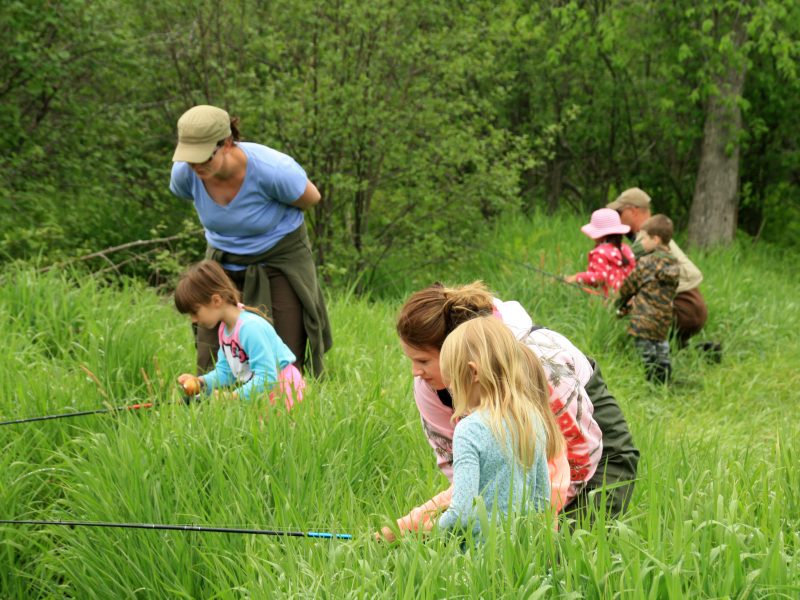 Natural Learners
(Saltscapes Magazine, Mar/Apr 2015)
Four-year-old Gabriel Jesso squeals with excitement. He and Joy Munford have been spraying sunscreen in the air and dashing into the cloud. The spray has settled on the ground, revealing a lacy spider's web. While sunscreen may not be ideal for the spider or its handiwork, Gabriel has made a fascinating discovery and is now spraying elsewhere to see if he can find more webs.
Meanwhile, Jesse Savoie scrambles seven metres up a pine tree, anxious to show off his agility. The lacquered look of the limbs tells the story of many small hands and sneakered feet gaining familiarity with the landscape of this stalwart friend in the forest.
This is Tír na nÓg, an outdoor classroom for pre-schoolers near Sussex, NB, where two days a week children spend their day climbing trees, wading creeks, hiking the hills and daydreaming in wide-open fields of wildflowers. This natural landscape is their teacher and their land of discovery…a playground of innocence and delight within the natural cycles of life and death.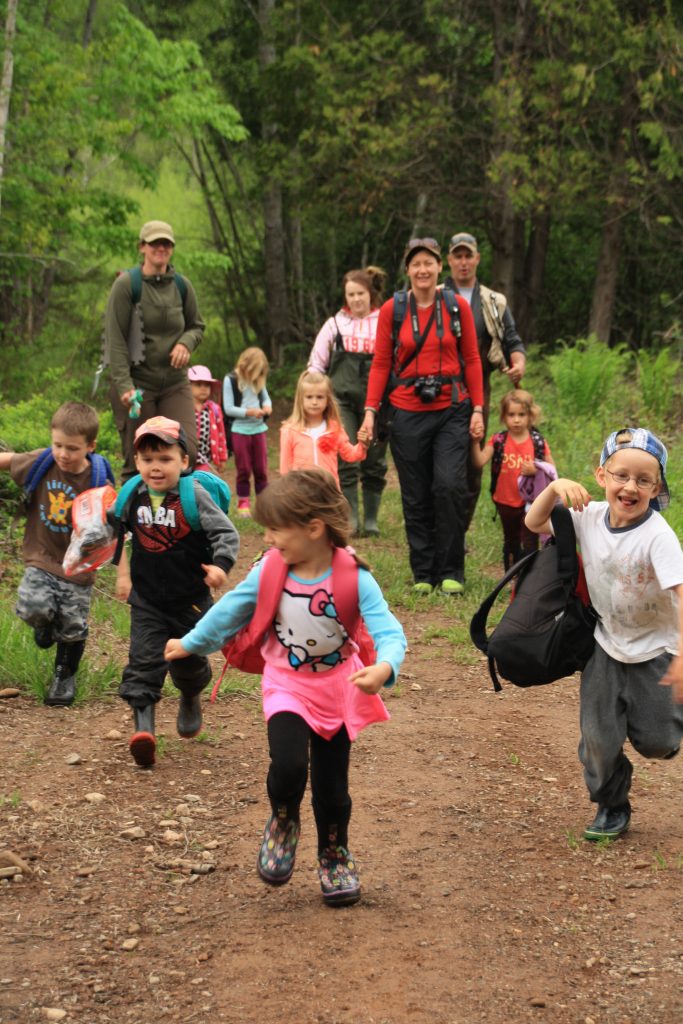 Director Lisa Brown knows that nature-based learning and spontaneity are critically important to child development. This young mom, outdoor enthusiast and day-care director has operated a traditional day care— Lisa's Playhouse—for nine years, but opened Tír na nÓg, Atlantic Canada's first certified forest school last fall. Although prolific across Europe, the forest school network in Canada is just gaining ground.
Tír na nÓg, which is Irish for Land of the Young, is situated on Lisa's 100-acre family property in Roachville, NB. "The land behind Lisa's Playhouse and Tír na nÓg Forest School is very familiar to me and holds a soft spot in my heart," says Lisa. "The children who attend our programs visit the same special places I used to when I was their age."
Those childhood memories of piling into her dad's old Ford truck and setting out for clam digging on the Bay of Fundy, berry picking in a field, or trout fishing in a brook shaped her adult self and she now shares those adventures with other little ones. She says she is living her dream.
"It's just sweet. It brings back how free we were as kids. We explored without fear of being lost or abducted. These kids experience what we did – climbing trees, fishing, falling in the brook, picking fiddleheads, finding strawberry blossoms and being excited that there will be berries to pick. Yes, they get muddy. Knee deep if they want to. It's a free range program and I just love it."
Lisa's dream began in 2009 when she read about Forest School Canada founder, Marlene Powers, who started Canada's first forest school in Ontario. Lisa knew this was what she wanted to do, but the time wasn't quite right. However, in 2012, Lisa traveled to Ontario to meet with Marlene and thus began plans for Tír na nÓg, which accepted its first students in September 2013.
The aim is to develop a strong connection between the child and the landscape so the child learns his place within it. "The forest school allows them to see the familiar landscape in all the seasons of change so they learn to love it," says Lisa. "If they can call it their own, and have a sense of ownership, then they are going to be more respectful and take care of it."
It is really just a return to natural outdoor child's play as it used to be.
Saint John resident, Tim Jones arrives at the school to drop off his daughter, Jenah. Brightly attired in turquoise shirt and pink skirt, Jenah looks ready for a typical daycare, but her rubber boots were made for wading and she can scale a tree as easily as any of the boys.
As a child, Tim roamed acres of woods, brooks and ponds behind his home. "We'd come home from school, have a snack, and then we were gone — kicked outside while Mom made supper. Now, Jenah can come here to an environment where she can enjoy free play and truly know what it's like to be a kid in nature."
Tim is delighted with the changes he sees in his daughter as a result of her time at Tír na nÓg. "She goes non-top all day here, then comes home and is in bed by eight. She has no pent-up energy from being inside four walls all day."
Their relationship and the activities they do together have been enriched by what she has learned at forest school. Tim planned to build a backyard tree house around the trunk of a shade tree. "Jenah didn't want to do it my way because the rainwater would run down the trunk and into her camp. She was able to look at my suggestion, see a problem and find a solution for it."
She taught him to recognize the chickadee's call – "It sounds like cheeez-burger, Dad" – how to build a squirrel-proof bird feeder and where to locate wild strawberries on their property. She now prefers making her own toys from natural, found objects.
Tim was so impressed by the changes in Jenah's confidence levels, physical endurance and sleeping habits, that that he partnered with Lisa to open a second forest school at Cherry Brook Zoo in Saint John this fall.
The teachers are accredited forest school practitioners, and schools are registered with the province and follow the curriculum framework for Early Learning and Child Care.
Still, some parents worry that the children will not be ready for regular school. Lisa's response? "The kids are learning lifelong skills. They are more than ready for life. They will learn their numbers by counting spruce cones, measuring the diameter of a tree, boring into a tree to count the rings. All the practical hands-on learning."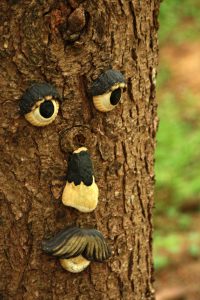 Through their experiences, children learn greater concern and respect for the Earth. They also develop critical thinking skills, self-awareness, independence, increased physical agility and tactile sensitivity, and the ability to watch out for and cooperate with others. They learn to be responsible for themselves, to handle risk in an appropriate and safe manner, and to use their own initiative to solve problems.
Activities like tree climbing bring more benefits than just enjoyment and physical dexterity. Lisa introduces the children to tree climbing slowly, then gradually builds on their skills as the year goes on. She says the children gain agility, risk assessment, self-esteem, confidence, and a sense of achievement.
Quiet time is also important. "The kids find their own 'magic spot' where they can be alone. The only rule is that they must be able to see each other. One boy likes to be on his own making mud pies. Another little girl will set her boundaries and say, 'I just want to be alone now.' The other kids learned to respect her and let her be alone."
Education also extends to the parents, who learn about packing litterless lunches, thus realizing how much garbage convenience foods generate. Lisa also hosts development days for educators and parents wanting to take part in various outdoor activities with children.
Today, Ben Whalen and Geena Oxford from the Kennebecasis Watershed Restoration Committee are taking the children fishing.  Ben gives the children some basic instruction on safe handling of the fishing rods, then shows the children how to impale a worm on a hook. He explains that they must stand still while fishing or their shadow on the water might spook the fish. The children range along a grassy creek and dip their lines in the water. They are quiet and still, but not for long.
"I caught a fish! I caught a fish!" Gabriel's voice raises with each pronouncement. Geena helps him reel it in, and once Gabriel has the fish in his hands, his excitement explodes. He grips it,  eyes wide, as Ben explains that he has caught what his granddad called a 'worm-waster' – a chub.
"Not good for eating, though," says Ben. Although Gabriel is reluctant, he eventually agrees to release his catch back into the creek.
Lisa's assistant, Sara Glinz, lends her degree in forestry and her experiences as a farmer and mom to the mix. "The first time I saw a forest school, I was blown away. Lisa makes things happen. She's changing things…a rebel…the good kind. Look at these kids. They like to see, feel, touch. They want to figure things out on their own. This kind of play used to be normal. Who changed the status quo?"
Rain or shine, the Tír na nÓg children find delight and fantasy in their outdoor environment. Some days are loosely structured, like today, with fishing in the morning and making dandelion jam in the afternoon. But other days are left to chance and the children. They may go on a hunt for mayflowers, lady slippers, or fiddleheads, build a lean-to, cook over an open fire, learn to make soup, or play games. They are monitored, but not restricted.
One afternoon excursion, with the boys toting makeshift swords, turned into a grand adventure, when at the top of a hill, the children discovered fields of dandelions in bloom.  They spent the morning making dandelion crowns and playing warriors and kings. "It was the most perfect day," says Lisa. "They took off their socks and shoes and ran through the field."
Down by the creek, Ben is sharing more of his grandfather's fishing lore with Ava Miller, who is disappointed that she has not caught a fish.
"If you're having bad luck day," he says, "then Grampie Brown's secret is to spit on the worm."
Ben spits on Ava's worm and helps her cast the line. Moments later, Ava has caught a fish. "See? Grampie Brown said it always works."
The children gather at the edge of the creek while Ben demonstrates how to pluck and spear fish eyes on the hook for bait, then clean the fish. He points out the different organs and explains that by leaving the fish innards in the creek, they are giving back to offset what they have taken.
"It's a gift for the fish gods," says Ben. The children listen with rapt attention. No one utters a 'gross' or a 'yuk'. But someone thinks the camp cat might like the innards and the rest agree.
So, fish guts go in a doggie bag for the cat, and the fish gods go hungry.
Ben spears the trout on an alder switch and returns it to Ava. A short while later, Ava, standing to the side, seems lost in a daydream, her hand idly caressing her fish over and over again, like a silken braid of hair. Jenah sidles up to her, "Ava do you want to play Mom and Dad with your fish? I can be the mom."
By 11AM, three children are sitting on the ground with their lunch bags; others are fishing; still others are looking at raccoon tracks in the mud.
"We know that children need long chunks of free time in order to learn," says Lisa. "When interrupted, it takes them 15-20 minutes to get back into meaningful play. To get into really rich learning, we allow them to eat when they are hungry. The only rule is to wash their hands first."
Later, on the walk back to base camp, Gabriel catches a frog. Sara allows him to carry it carefully. She asks him what he should call it.
"Frog!" he says.
Avery Sharma, a shy four-year-old in pink, walks alongside Gabriel. "I hope we find another frog so we can have a mommy and daddy," she says quietly.
They talk about making a house for the frog. Gabriel says it should have lots of grass and some water. Avery thinks flowers would be nice. She gathers a handful of dandelions.
Back at base camp, at Sara's suggestion, Gabriel lets the frog go and it makes a beeline for a space beneath the roots of a tree. The kids gather around peering in the hollow. They determine that the tree makes a pretty good frog house.
Avery arranges her dandelions at the door.